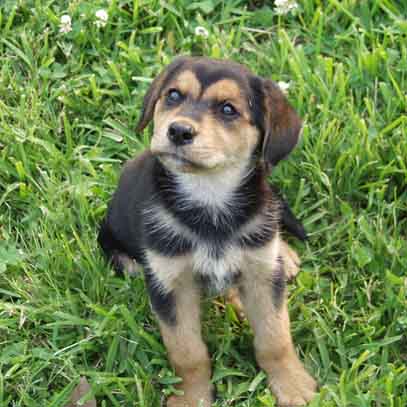 Bully sticks are a great chew for your dog but some people may be worried about giving them to a smaller dog or puppy fearing that they may choke or end up with an intestinal blockage. While this may be a valid fear any sized dog should be monitored while eating as it is in their nature to swallow food.
Puppies need to have things to chew on while they are teething. If you don't want them to start on your furniture then you'll need to find an alternative to keep them entertained.
While a beefy bull penis may not be very appealing to some dog owners , whether it's the meaty smell or just the thought of the your dog chewing on a steers nether regions, you'll be happy to know that there are several alternatives that will provide your puppy with the necessary oral workout. Here are our top picks for alternatives to bully sticks for puppies.
Best Bully Stick Alternatives for Young Dogs
I think that you'll agree that this is a pretty varied selection of puppy chews from natural antlers and vegetable based treats to hard cheese and synthetic alternatives. The good news is that they are all fairly cheap with most being under ten bucks so we recommend trying a few to see which your dog prefers.
A small rubber toy the is extremely durable. The inside is hollow allowing you to stuff it with your puppies favorite treat, just to make things more interesting.
We recommend filling it with peanut butter and giving it to your dog outside as it may get a little messy. These little balls are guaranteed to last and you can pick them up for under $10.
Deer or Elk Antlers are natural, healthy chews for any sized dogs. They are exactly what they claim to be and are great for keeping your dog entertained.
Antlers are a hard chew and as such will last a long time. Just remember to keep an eye on your pup to make sure that they don't damage their teeth. Pick a good sized antler up for around $6.
These are totally natural vegetarian alternatives to bully sticks. Made from dried sweet potatoes they are chew-able and can be fully digested.
A typical Yam is good for a small to medium sized dog or puppy. They do not smell,won't stain and are hypo-allergenic. They are also high in fiber and low in calories so as part of a calorie controlled diet they are perfect.
Himalayan Dog Chews are especially good if your dog has an allergy to beef. Manufactured from a very hard cheese and made by hand in Nepal these bars are meat-free with the main constituent being Yaks milk.
There is very little smell but care should be taken when your puppy is close to the end of the bar. Although a natural product they would take time to be digested in large chunks and mayprobably be passed before this happens.
Again, this is a beef-free product. Mainly aimed at reducing plaque build up on a dogs teeth and promoting gum health they do make a good chew for puppies.
Greenies dental chews are vegetable based but go for the Teenie size if your puppy is small otherwise they may struggle to chew it properly.
Puppy Chews to Avoid
It is advisable to avoid giving either rawhide or cooked bones to your pup.
Rawhide is made from the leather hide of a steer or cow and as such it can be very difficult to digest when swallowed in large chunks. This has been known to lead to health complications for many dogs including intestinal blockages.
On the other hand, cooked bones, although very tasty and seemingly natural, can splinter when eaten resulting in the shards piercing the gut and causing complications.
Whichever treats you decide to give your puppy you should always stay vigil while they are chewing to ensure that they don't get into difficulties and be prepared to remove any small sections of the chew should they break off.