Our Take on Redbarn Braided Bully Sticks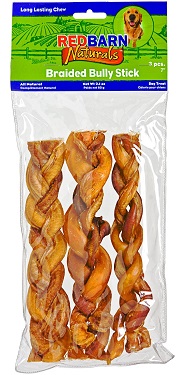 Redbarn is one of the best known makers of unique and delicious dog treats. In business for over 40 years this U.S.A. company is known for it's natural pet chews and foods. This family run business originally starting out making their own fresh meat based dog food as an alternative to the dry product normally fed to dogs.
Redbarn Braided Bully Sticks have grown in popularity over the past few years. By braiding a few separate bully sticks into one meaty chew you end up with a thicker treat that is more of a challenge for your pet.
These natural low fat chews are loved by dogs the world over. Redbarn gets their bully sticks from free range bulls raised eating a healthy grass diet.
Once the beef muscle has been braided it is slow roasted in its own juices so as to kill off bacteria and strengthen the bully stick. This ensures that your dog gets to work out its jaw and clean it's teeth at the same time.
Do Redbarn make the best bully sticks on the market?
Not all bully sticks are of the same quality. Some are impregnated with preservatives and dangerous chemicals so it's always important to buy the best quality beef sticks you can. Redbarn get their beef products from their own company operated farms in Paraguay where they can control the quality of the ingredients. This is probably why their customers keep coming back for more.
While you will find that most pet stores stock Redbarn products you're unlike to find them any cheaper than when you buy online .